AC Repair, Heating and Cooling Repair San Jose
Ventwerx HVAC in San Jose and Morgan Hill is offering a free air duct cleaning with any new furnace or air conditioner installation or replacement.
Get A Free Estimate
Request Service

SPRING Special
Mention this coupon when getting a heating and cooling estimate. Valid until April 30th, 2023.
Free
Smart Thermostat
With any Air Conditioner Replacement
License #984614
Valid Until October 30th, 2023
Ventwerx is a San Jose HVAC company that provides all-around service for any HVAC needs you may have. We specialize in gas furnace repair, AC repair, and installation of new Carrier products for heating and cooling. We also have services for home energy, attic insulation, and professional air duct cleaning services.

Ventwerx exists to serve customers and help them achieve an ideal interior climate for their houses and buildings. We're hoping to meet you soon.
Air Conditioning Repair
In San Jose
It's hard to keep your cool when you're dealing with a faulty air conditioning system. But there's no need to sweat it when you have help from professionally trained, insured and experienced Ventwerx HVAC technicians.
Ventwerx is a trusted name in residential and commercial AC repair. San Jose residents have invited us to their homes and offices over the years, well-assured and knowing that their air conditioning problems will be dealt with utmost efficiency, quality and personalized service.
At Ventwerx, we offer top-of-the-line, all-in solutions that allow you to enjoy a full range of services including full range of HVAC services from cleaning, repair, replacement, and installation of high quality Carrier air conditioning products.
AC Installation
in San Jose
Ventwerx HVAC has been helping homeowners in San Jose and Morgan Hill since 2005 with air conditioner installation. If you don't know which AC unit to choose for your floor plan, our air conditioning experts can help you find the perfect cooling system. We use Manual J heating and cooling load calculations to determine how much cooling power you need. We can make a recommendation based on your cooling and energy saving needs.

Our HVAC technicians will expertly install the air conditioning system in your home, taking great care to leave the work area clean when we're done. Our certified technicians operate with integrity and skill, to help your home stay cool and comfortable during the summer.

Air Duct Cleaning
in San Jose
Now that autumn is here, your home's furnace is back in use. Your central heating and cooling system has accumulated dust, dander, pollen, lint, and other allergens that can affect the respiratory health of your family.
That's when air duct cleaning is in order. Cleaning your air ducts will ensure that the heating and air conditioning system will work optimally, creating the most comfortable indoor climate for homes. Regularly cleaning your air ducting will also extend the functional lifespan of the system.
At Ventwerx, our air duct cleaning service is performed with utmost care and great attention to detail by our highly trained technicians. We have locations in San Jose and Morgan Hill.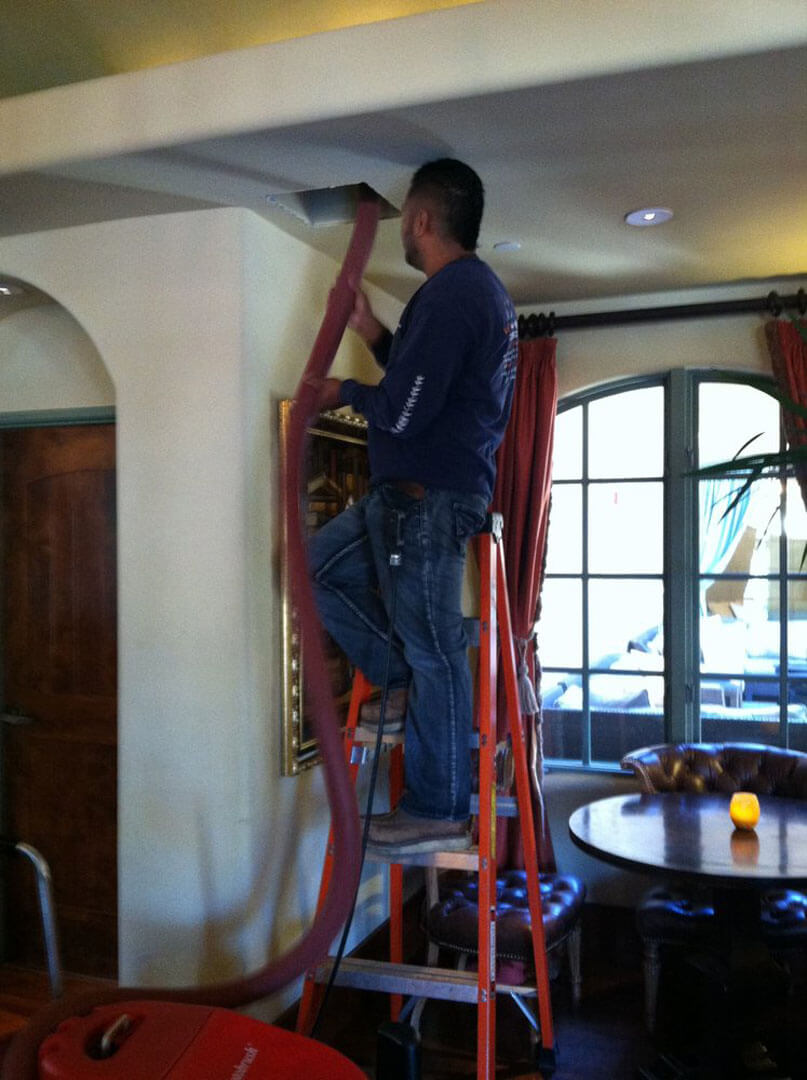 Furnace Repair
in San Jose
Ventwerx HVAC is a heating and cooling company with locations in San Jose CA and Morgan Hill CA that can help fix or replace your furnace. If you notice that your furnace is not blowing enough hot air or you've noticed a large increase in your heating costs, these may be indications you need to have your heater checked by a professional.

Our HVAC technicians have the tools, knowledge and skills to root out the cost of your heater's problems and take the necessary actions to resolve the problem, restore comfort, and help you attain cost savings with repairs done right the first time.
WE ARE VENTWERX DUCTLESS HVAC IN SAN JOSE & MORGAN HILL
You're one call away from the perfect temperature. Get the best heating & air-conditioning with Ventwerx. We install and service ductless mini-splits by Fujitsu. We'll help you choose the best ductless system for your home.
Need a ductless mini-split for your Eichler home? We have extensive experience installing ductless HVAC units in Eichler homes throughout San Jose.
Get A Free Estimate